Explore Bandhavgarh National Park
Bandhavgarh is located in Vindhya hills of Umaria district, Madhya Pradesh. In 1968 the area got its status of a National Park and now has become one of the preferred parks for Tiger Safari in India that includes photographing and tracking Tigers in wild. The park is known to have World's highest density of Bengal Tigers.  The four zones namely Magadhi, Khitauli, Tala and Panpatta-together clubbing the core and the buffer zone the total area of 1200 sq.km is home ground of over 55 tigers at present.
The historical links of Bandhavgarh are to be found in India's worshipped mythological heroes Rama and Laxmana. The name "bandhav-garh" translates to "the brother's fort" and believed to be gifted by Hindu God Rama to his devoted 'bandhav' (brother) Laxmana on his return from victory over Lanka (Ceylon). Inside the park there are 12 natural waterholes, several other historical monuments and remains of ancient caves that exhibit a 2000 year old rich historical past.

Other than Tigers and Leopards the mixed vegetation of Sal and Savannahs makes Bandhavgarh an abode of Spotted Deer, Sambhar Deer, Barking Deer, Wild Boar, Indian Gaur and Jackal among its 22 species of mammals and around 220 species of birds.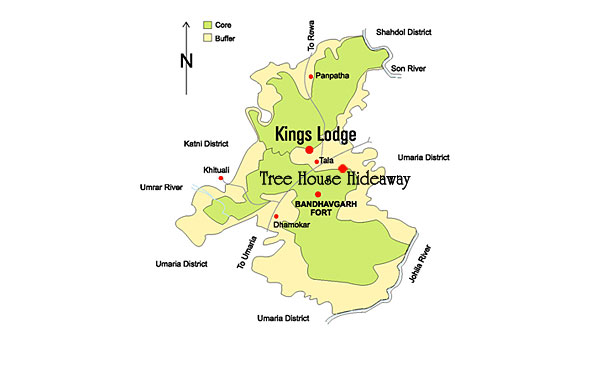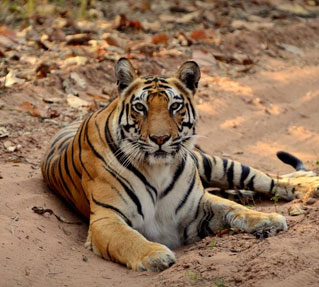 Media Comments
20 Fabulous Boutique Hotels in India
-Luxurious and tasteful rooms built on stilts, on five different trees, amid 21 acres of woodland adjacent to Bandhavgarh National Park. Host are friendly and enthusiastic naturalist. "
-The Oberver, UK
---------------------------------
"Special places to stay in India"
– Alastair Sawday's Guide Book